It's nice and cools up here out of the hundred fifty-three Phoenix and about to put together another awesome one pot camping meal.
We're going to cook potatoes and vegetables and what I've got here is I've got some olive oil we're going to put in.
I got some red potatoes sweet potatoes, red onion some beef sausage this can work with kielbasa or whatever you want to put in there some carrots.
I've got to Spices here got some rosemary garlic to bring a pale Basil's just you know to spice it up a little bit.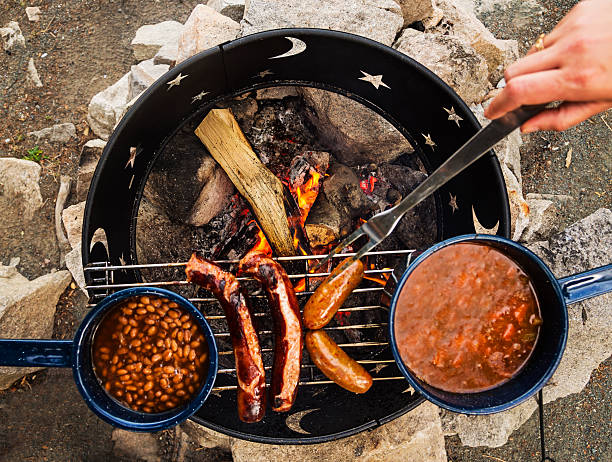 One Pot Camping Meal Plan
So the first thing I'm going to do olive oil going in the pot which I already have the fire going. We'll put a little bit of that in there and might add a little bit later.
We're going to let that heat up and we'll go to the rip potatoes, going to throw those right into the oil after cutting.
And obviously, if you come across any bad ones are bad spots or anything like that. You can cut them out and set them aside.
So I'm going to do quite a bit of veggie and then the whole beef kielbasa. They're called beef smoked sausage, but it's essentially kielbasa potatoes. I'm going to do a little bit of sweet potato.
Read also: Best 5 No Cook Camping Meals
How to Prepare One Pot Camping Meal
So I want to start out with some of the harder vegetables that got a little off-balance here. So we're going to tilt it a little bit you want these to cook up because the smoked sausage or kielbasa, whichever you decide to use is usually pre-cooked.
So that goes in last get some of these hard vegetables in first make sure they get hooked up and saw Soft hopefully that makes sense hard vegetables.
All right, we're gonna get some red onion cut up and started to do some sweet potato, but the sweet potato I have is a little bit mushy and wasn't good enough for my meal.
So we'll go into the onion next and these pieces don't have to be tiny but let's get some of the dry stuff off the outside here.
And we'll take this first layer off here and write in we go dry layer off chunks good flavor with the red onion think this is actually a sweeper.
And we go on for a couple of minutes guys get them soft and dust to fly buzzing me that really wants part of this.
We're going to get some carrots in there. I'm going to save some of these because I want to munch on some later. We'll get these sliced in two rounds.
And right in the pot, it goes hopefully it'll take my finger off. That would be funny. Are you guys all right into the pot? I've got the heat turned down right now.
I'm going to turn it up a little bit once I get all the veggies in a good crisp carrot. Go. Alright, so now we're going to give that a stir. What I'm going to do is put the lid on this for 5 or 10 minutes.
Let them cook and soften up and then we'll get to the meat of the matter. Alright, it's been about 12 to15 minutes.
The vegetables are cooking nicely. Let's take a look in the pot and see how they look right? Everything is cooking up Well and If you've noticed.
Okay here but I got this awesome folding tool kit kitchen kit from Alfalfa's and I've used it several times cooking and it's never let me down.
It's got a knife basting brush and a fork. And of course, the spatula that I'm using here is a little bit of a toast on it. So next up. I'm going to go over here and we're going to do a little bit of yellow.
Read also: How to Meal Plan for the Week
Squash and this is the cube of butter squash right out of our garden. So going to slice up some chunks of that.
We wait until later on for the squash for a couple of reasons one it is going to add some moisture and it's a lot softer than those other vegetables.
I just put it in so it's not going to take as long to cook. So I'm going to get some cubes of this cut up and into the pot. Get some spices in there. I'll get the sausage cut. So like I said sausage and my spices here.
So this one here is basil garlic Moringa and kale all I'm also using for my breakfast. So I'm only going to use part of my second bag, which is some fresh Rosemary. There's some dehydrated Rosemary lift pinch of that.
And we're going to go slice up the kielbasa or smoked sausage in this case and most of these that you're going to find are pre-cooked.
So we're essentially just heating these up. So I'm going to put these in Stir It Up. I'm gonna give put the lid back on five or ten minutes just to get everything good in heated and then we will be ready to go get this in.
Whack some pretty awesome sense of put that in there. I'm going to throw the lid back on and let it sit for about 5 or 10 minutes.
I'll pull it back up and stir It Up again. I think we'll be good to go. So it's looking good and smelling good hold tight. I'll check on it in about 5 or 10 minutes.
So since we added the mushrooms in late, I just wanted to throw a little disclaimer I added about this much of a bottle of water in there right in there with the olive oil.
The liquid from the vegetables just so we can steam those mushrooms up gives off a duck's as we did put them in so late, but another few minutes are going to take a look. This is going to be awesome.
All right. So I've started a couple of times and have been simmering for about 15 more minutes. So let's take a look.
Read also: Paleo Freezer Meals
So these handles are getting really hot. So we got to use the tool handle here to take the lid off there. We have it all smells amazing all those spices in there all the different flavors one last stir. We're going to serve some up.
There we go. How does that look that's a one pot meal? It's a kielbasa and vegetable Skillet right out of the petit jury Camp oven. So hope you enjoyed this. Look forward to more one-pot meals coming. So that's it for now happy trails.
Conclusion
One-pot potatoes and vegetables taste extremely delicious and very nutritious. It's very simple to prepare with just a few ingredients you are good to go.
This meal doesn't take time. Try this out whenever you are camping because I know it a great one for you.