I'm going to share with you easy kid-friendly crockpot meals today. I am so excited for sharing this article with you not only am I bringing you more crockpot meals more freezer-friendly meals, but also color.
You're going to get even more meal ideas for your family. I am glad to have you here. Read on to follow the recipes.
Easy Kid-Friendly Crockpot Meals
Below are easy kid-friendly crockpot meals;
1. Crockpot chicken noodle soup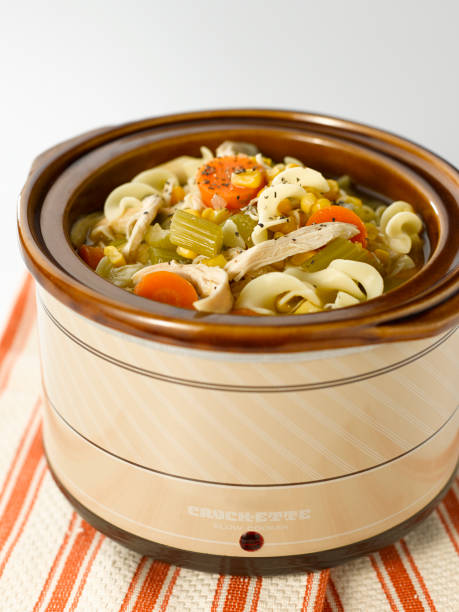 For the freezer
So let's get into the first meal. Number one is going to be crockpot chicken noodle soup. I have my bag ready with a date on it the name of the recipe and the instructions that I need for the day of cooking.
That's when I'm putting this, use together crockpot chicken noodle soup, and then my instructions are to just take this bag out of the freezer and thought I typically do this overnight just to make sure especially since it needs a long time of cooking.
I don't really have to try to rush in the morning and I don't want to have to wait for this to thaw so I would recommend taking it out overnight versus the day of till it thaws in the refrigerator.
I'm going to add this bag to the Crock-Pot two ingredients that I am not adding in here are chicken broth and egg noodles those are key for putting on your bag. So you know that you need to add those not everything for the recipe is going to be included in the bag.
So I'm going to add the bag to the crockpot with 32 ounces of chicken broth. And then I'm going to cook that on low for 6 to 8 hours however long it needs to be for the chicken to finish cooking completely.
Then I'm going to add two cups of egg noodles for 15 minutes and that is going to be it for dinner is going to be done. So I'm going to show you guys how we're going to put this back together and then I am going to show you how we're actually going to cook it because I am doubling up on my recipes this week.
I have a really neat finger peeler that I use for my carrots. I absolutely love just things that make freezer meal cooking a lot easier. I have something that I specifically used for onions just to help with those crying eyes and then my little bag holders right here all from Amazon.
Read also: One Pot Vegan Meals
Ingredients
For this chicken noodle soup, you are going to need 1 pound of boneless skinless chicken breast and diced and you're just going to add that to your bag, one small onion diced, 3 carrots sliced, celery rib sliced. And I add 1/2 a teaspoon of thyme, a teaspoon of celery seed, 1/2 teaspoon of turmeric, 1 teaspoon of salt, and 1 tablespoon of cornstarch.
Method of preparation
I am going to take my bag off of my little holder called it all the air out close it and I like to mix my ingredients together in the bag. The recipe does not save to do this, but this is just something extra that I do. Okay. So this is ready for the freezer and I love doing this when I'm already cooking a Crockpot meal.
If it is easy enough to double up and freeze some of it they are definitely a time saver for me. So you guys already saw how to put it together if you're sticking it in your freezer.
So on the day of cooking, you're just going to take that bag out follow the directions that we wrote on it, and put it in your cooker since I am going to go ahead and double everything I mean, my freezer and I'm making one for my family tonight.
So what I'm going to do is I'm just going Fraser part just for tonight. And the next time we have this meal. I have it ready to go in the freezer.
Read also: Cheap Pasta Meals
For dinner
So I'm just going to take all of my ingredients except for the noodles. I already have my chicken broth here. I have my chicken right here already cut up. I'm adding my one small onion that is diced, and carrots that I peeled and cut.
Make sure I get all the yummy carrots in there by you to celery I am adding my 32 ounces of chicken broth, 1/2 teaspoon of thyme, and a teaspoon of celery.
1/2 teaspoon turmeric,1 teaspoon of salt, and 1 tablespoon of cornstarch. All right, that is everything you are not going to add your noodles until the cooking time is done and then you're going to add 15 minutes, but I will come back. And share that with you, so I am just going to mix all of this up.
Make sure that cornstarch gets mixed in there. Sometimes like the Klumps no, it look good. I'm going to put my top on so you just want to cook it on low for 6 to 8 hours. Just make sure your chicken is fully cooked. So it's a little over six hours.
I just pulled a piece of chicken out and it is kind of shredded a little bit. It's completely done. So I am going to add my two cups of egg noodles and that's not quite too I'm just gonna put in another little handful and Now I'm just going to let it cook for 15 more minutes and then I'm going to spoon it into bowls and I'm going to be serving it with breadsticks.
So I will show you guys what the final dish looks like. And there it is. I took a bite and it is delicious. So I'm definitely glad that I am sharing this recipe with you guys and that I already have another one in the freezer waiting for another night.
2. Chicken Quesadillas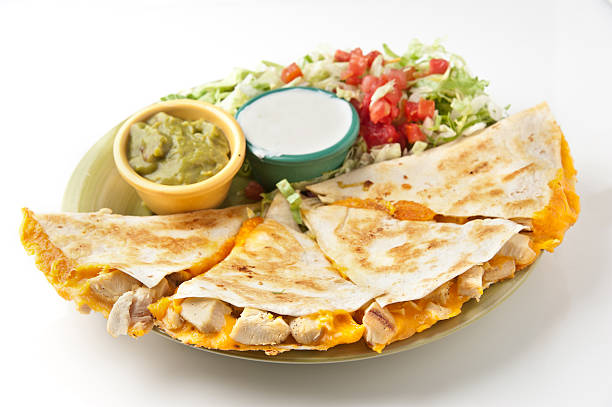 Another recipe I am sharing with you guys today is another one that is easy. Just go ahead and double the day that you are cooking chicken quesadillas. So I've got again I've labeled my freezer bag with the date the name of the recipe and the ingredients or the directions on the day of cooking.
Read also: Easy Low-Calorie Vegetarian Meals
For the freezer meal
So for these chicken quesadillas, you're going to need to take them out again, thaw adds them to the crockpot to cook on low for 6 to 8 hours. Then we're going to shred the chicken then place it in tortillas with shredded cheese and broil in the oven for 60 to 90 seconds. So I wrote all of that in my bag.
Now. I'm going to set it up and show you guys what you need to go ahead and put in here and then we are also making this for dinner tonight. So not only am I going to have one for my freezer. I'm going to start dinner for my family tonight as well. Alright, so I have my bag in my little handy bag holder.
Ingredients
I have one pound. It's a little bit over pound just because I do buy these in bulk, so I've got some skinless boneless chicken breasts right here. I'm just going to dump those in the bag. Then I have one small onion diced that is going in the bag along with 1 tablespoon of lime juice.
And I buy my taco seasoning involve just because I use it quite often, but if you guys do not have it in the biggest package, you'll just going to need one package of taco seasoning since I had this big one. I'm going to be adding 3 tablespoons.
So one, two, and three now, I'm going to close my bag get as much over here out as I can, and with all my freezer meals. I like to go ahead and just mix them in the bag just to get all the seasoning kind of wrapped around your meat.
Whatever you're bagging at just to get them all combined. I feel like that really does make a difference when you're freezing it and the bag is ready for the freezer.
For dinner
Now, let's start dinner. So I'm basically going to take the same exact ingredients that I put in my freezer bag in my crockpot.
So I am going to spray it at first or you guys have got liners just because there's not a lot of light. Quit in this dish because you're shredding the chicken. You definitely want to spray it or use a Crock-Pot liner because it is going to stay so I'm out of boneless skinless chicken breasts right here about a pound putting in my crockpot one small diced onion, 1 tablespoon of lime juice, 1 tablespoon of olive oil.
And either one packet of taco seasoning or like I mentioned earlier if you have this big one, it's about 3 tablespoons. So I'm going to go ahead and just mix this a little bit again just to get that seasoning on the chicken while it's cooking and get the oil and lime juice kind of just mixed around and I'm going to put my lid on and sleep so normally depending on how I'm cooking it.
I would just shred it right in the pot. But because there is another step and I don't want a lot of this liquid in it. I am going to take this out to shred it but I do have a quick shredding hack for you guys I'm going to share just because I love it so much and it makes shredding your meat so easy.
They just pull my chicken output it in the bowl. And I've got my handy hand mixer here. And this is what makes shredding your chicken so easy.
Okay to put the quesadilla together. I've got a pan you guys can use for any kind of baking sheet. This is just the one that I'm using for now.
And I wash my hands, I'm just going to take a little bit of the chicken. And spread it to this is going to make quite a few so I'm just going to show you guys one of them.
And obviously, you can put however much you want if you want a lot of chicken in this first one, I'm not going to put a lot just because I'm going to use this one for my kids. I'm going to rinse my handoff.
And now we going to put in a little bit of cheese and I am using cheddar jack cheese that I get in bulk. My kids love cheese, so I'm going to go around one more time. There we go. Then you're just going to top it with another tortilla.
Okay, I've got my oven on broil you can do lower. I'm just going to have it on high and I'm going to put my quesadilla in the oven.
You want to make sure since you're boiling it you are putting it on the top rack and you're just going to let it sit in there for 60 to 90 seconds. Make sure you keep an eye on it. You just want to make sure that the cheese is melting and the top is getting a little brown and crispy.
All right that took about 60 seconds. And now I'm just going to cut it up. I don't think I'm gonna be able to do this with one hand. I was going to try and be cool. But obviously, I'm not that cool. So I'm just going to slice this up into a little like
I'm serving it and dinner number two is served. I just made a little packet of the Lipton or the North side's taco-flavored rice and then I have a little guacamole cup that my kids love that we pick up in bulk.
Especially when you're using things for your Crock-Pot or when you're buying meat and bulk to go ahead and whatever you have planned for dinner more than likely you can figure out how to make your freezer friendly and just a double up.
Just do what you're already making annotation and stick it in the freezer to make life easier the next time you are very busy.
Conclusion
Kid-friendly crockpot meals are easy and taste great. You can also prepare some and serve it inside the fridge for busy days. These meals are very healthy and good for your kids. I love these freezer meals because they help a lot during a busy day, your family can eat very well even on your busy days.